---
- ubuntuf4n - 2010-02-06 07:13

Thanks you!
Now its look like its grown up


In my point of view this is really a little revolution.
Its a little change in the interface, but a big step forward in usability.

I would like to add that it would be great if you could make the pause-name & time (running/total) in the upper corners a little bit larger.
This could be also a big visible enhancement. (Example: Alaska skin)
In this business the vlc player has the best visible condition of osd-symbols. Maybe it can give you a clue about the size.

There are two rules for OSD-Overlays:
1. Beware the Simplicity
2. Bigger is better.

Just an idea: What about killing the text above the timeline (in your screenshot <pause>), and place just a very large symbol in the middle lower part (where the free space is)What do you think?


---
- mcoto - 2010-02-06 23:52

Since everyone is making requests.
Would it be possible to add a button to launch the weather script/plugin so I could be checking out the weather and than push the button to launch the script and check out the local Doppler? or better yet I think I saw a mod of rapier where the dopler was the background for the weather.

Either way this is still my favorite.

M


---
- Sharpe - 2010-02-07 02:45

Yep I'm looking into it now.

*Edit* Okay I've added this - you can set up the weather channel script in skin settings which will populate a button in the weather screen. I've not done any custom skinning of the script yet so it uses the script's default look for now.

**Edit** I realise that the script seems to have been depreciated in favour of the Weather.com plugin - that's a load more work to get working. - I'll look into that when I get a chance.


---
- mcoto - 2010-02-07 04:21

Dude your awesome. Downloading now.

M


---
- ubuntuf4n - 2010-02-09 06:02

Could you integrate an option to toggle if fanart off/on, for example in video library view.


---
- Sharpe - 2010-02-10 03:40

Well it's possible - but if you don't want to display fanart then isn't it easier just to not download any fanart?


---
- Sharpe - 2010-02-10 03:47

Oh new video library view btw - it's a case wrap view.

Credit to aphillippe and his very good Confluence Wallstream mod for the nice case overlays.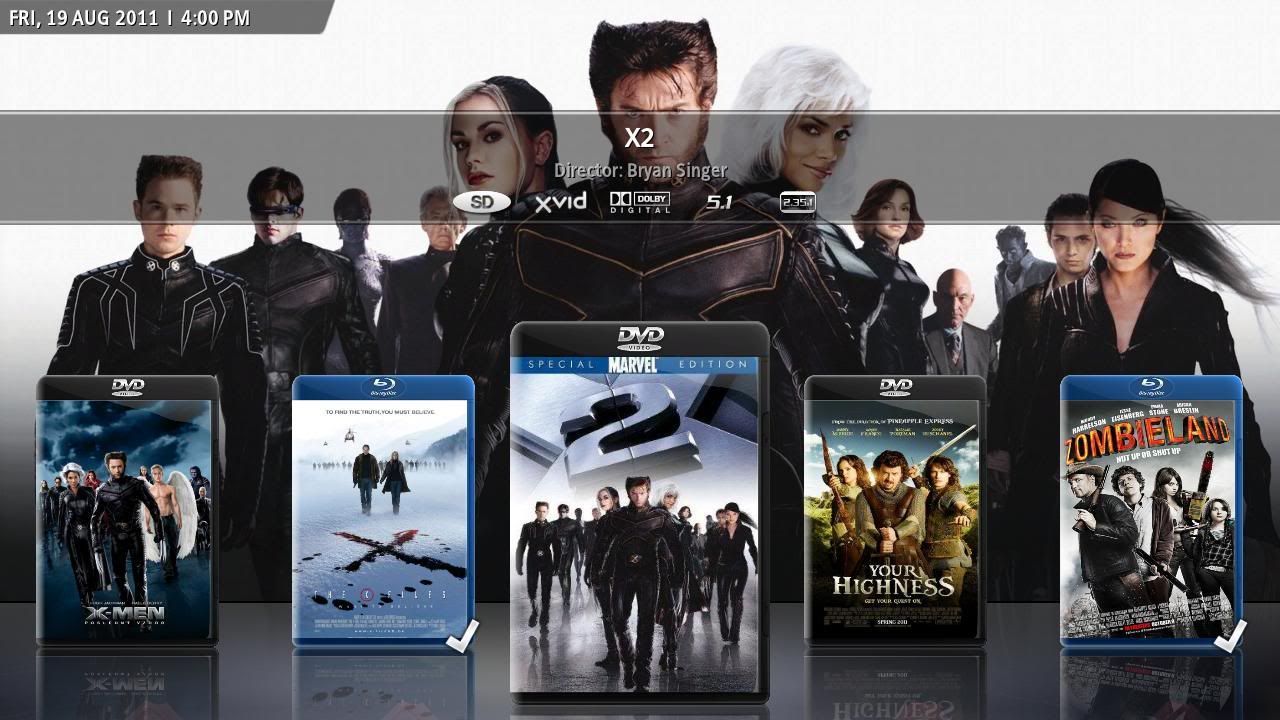 ---
- djdafreund - 2010-02-10 05:37



* djdafreund just died and went to heaven. Nice addition, i like that view. Very nice!!




---
- dan991199 - 2010-03-17 17:31

is it possible to get a wrap view that is 2 rows high? with nearly ~700 movies wrap takes a long time to find what i'm looking for, but i also love to see the fan art
---
- djdafreund - 2010-03-18 03:41

You have something similar and then some, try out the mini wall mode. It's SIMILAR but with 3 rows and scrolls left and right. See if that works for ya. I'm right there with ya, including my HD movies, and that works pretty well. Check it out.


---