---
- Gr8rtek - 2011-12-12 21:03

Originally, I wanted EXACTLY that, aptalca! But, because I live in Dallas, TX where we had 39 consecutive days over 100 degrees this summer (and 72 total days over 100 degrees), I need something to help keep the media room cool, which is why I have a 72" ceiling fan suspended from the ceiling that is directly between where the projector and screen would be installed.

And I should clarify, there are plenty of projectors that my wife would be content with, it's just that we cannot afford any of them
We'll see if that changes with the new 4K projectors coming out from Sony and JVC. A little off-topic, but this video is the first prototype unit that my wife's team built ... http://www.youtube.com/watch?v=gzLIqqBYw_g. It was awarded "World's Most Powerful Simulator" by the Guinness Book of World Records. This prototype unit features a 180-degree field of view, but the version that is being delivered to the US Air Force features a full 360 enclosure. When I ran the customer demo center at this company, I got to fly this simulator pretty much any time I wanted. It makes Call of Duty look like Space Invaders! And while you see the vertices where the different facets intersect, when you are actually flying the aircraft through the Swiss Alps, you really don't notice the intersecting panels at all.


---
- tcman47 - 2011-12-12 21:10

Setups are in my sig

Loft Computer has three 1TB or 1.5TB drives where I store my media and link it to the other two machines.

I have about the same drives in the Bedroom Computer where everything is backed up.

Movies - qty. 165 (all 1080P HD)
Music - qty. 840 albums (all either 320kbps mp3 of flac)
TV - qty. 420 episodes of 7 different shows (all 720P HD)
Pics - qty. about 1,500 (most 1920 x 1080 jpg)

No porn in any of it.


---
- errornumber419 - 2011-12-16 22:38

My main XBMC HTPC is a Dell Dimension 3000 with a Radeon 9150 hooked up to an old 30" tube. Streams off a networked 2TB drive.

Don't act like you're not impressed by my 512MB of DDR...


I got it all for free and put a $15 gpu in it and it works, not always happy to playback 1080p though...


---
- bluedevil229 - 2011-12-16 22:46


tcman47 Wrote:No porn in any of it.



Waste.


---
- drwprtcht - 2011-12-24 06:05

Well, it's hard to follow Gr8rtek's post...but here's my simple setup. It's my first HTPC, and it's what you might call a little overkill, but I like to enjoy a few games of BF3 from time to time.




Here's the specs:

-AMD Phenom II X6 Black Edition
-Radeon 6870
-8GB DDR3
-760w PSU
-Win7 Ultimate 64bit
-450GB Velociraptor as my C: drive
-3TB and 1TB external that stores my content...only 1TB left til empty!
-42inch Vizio
-APC 1300XS backup

I regret not going with a modular PSU. As you can see, it was hard for me to do cable management with this case.




It's an nMedia PC case. Pretty cheap, but I like it. Might be a bit too big for some on here.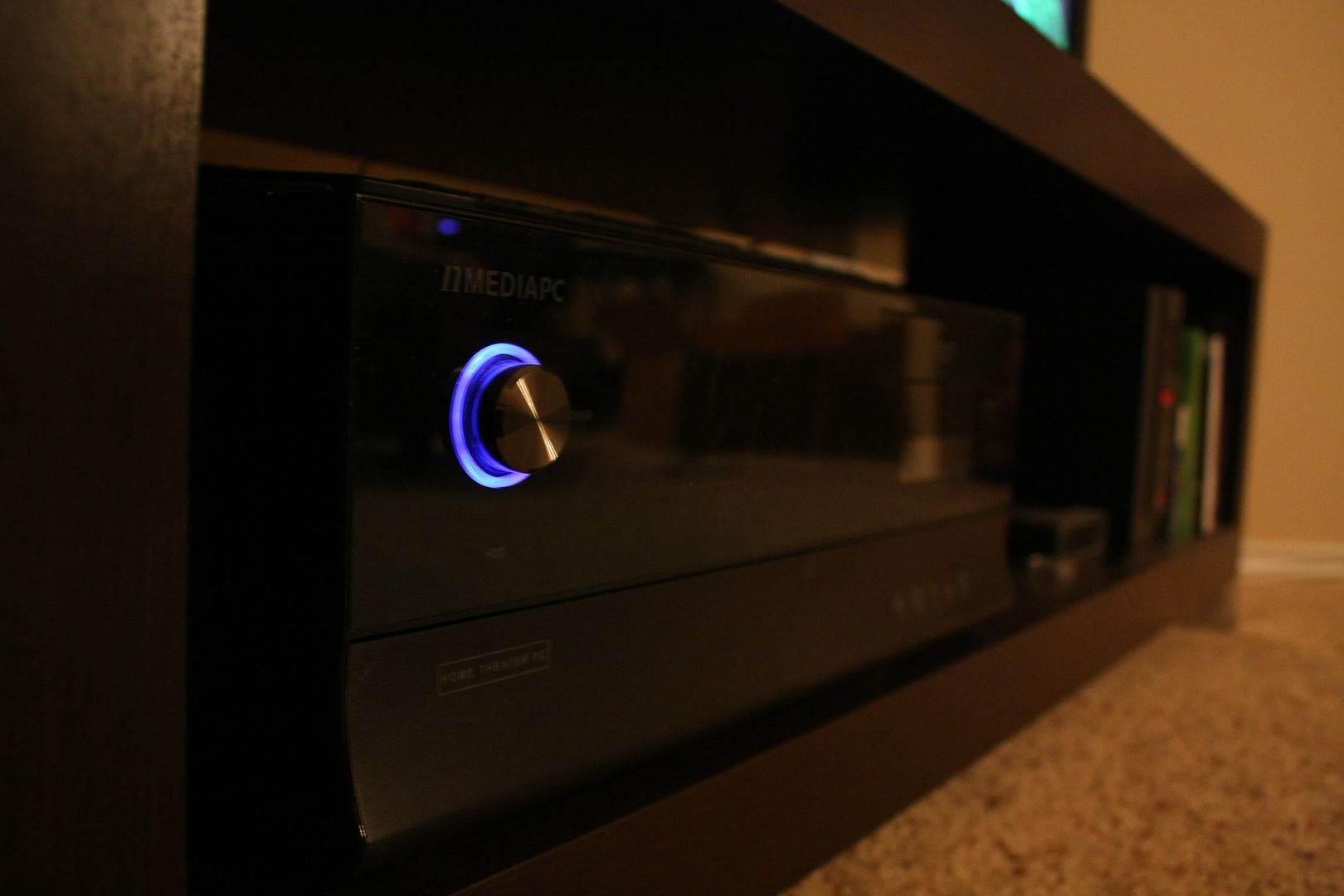 I'm using the XBMC app for Android as a remote. It's the best option, IMO.




So many movies...so little time...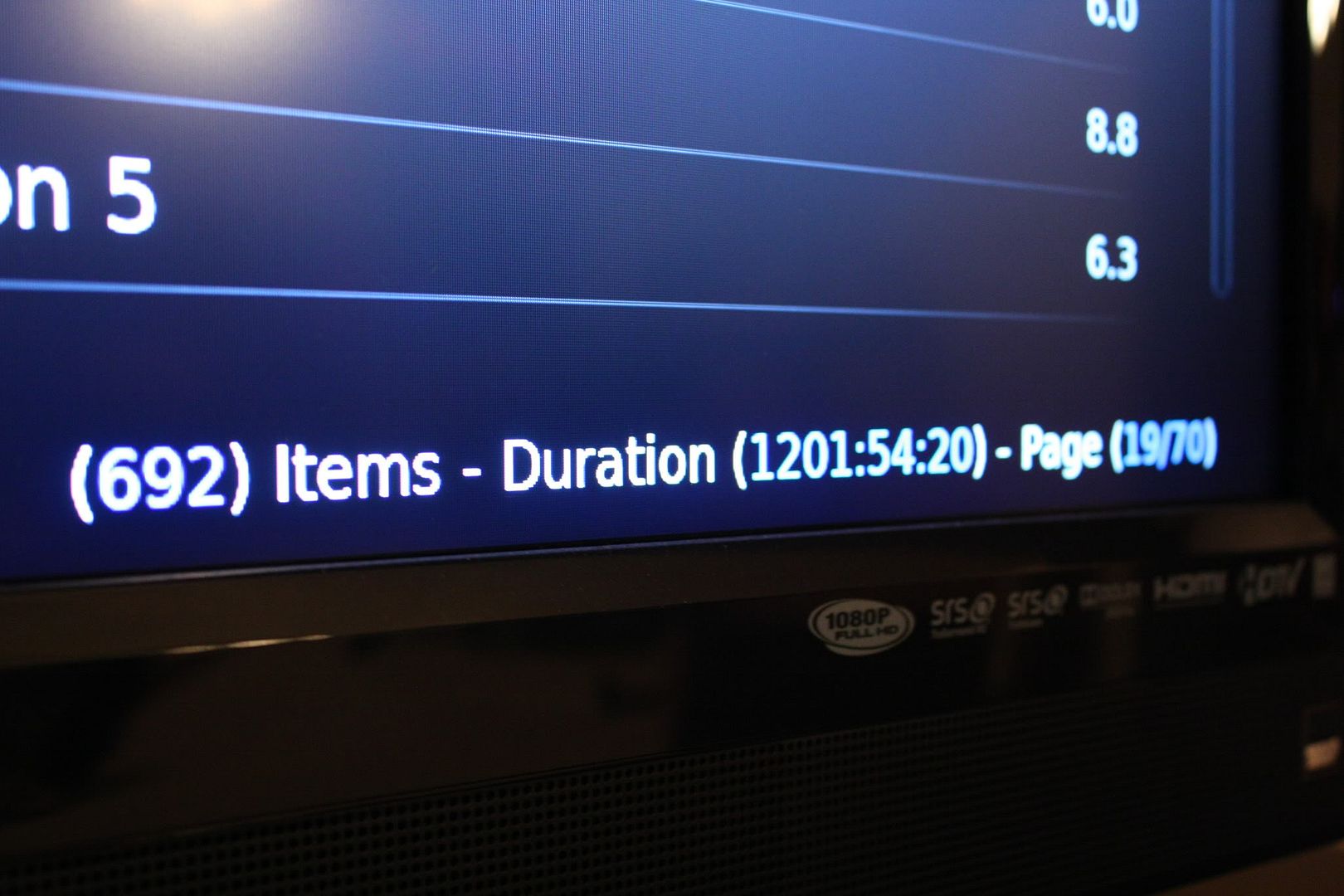 My next plans in no particular order:
- Home server build
- Better & bigger TV (LED!)
- Receiver & speakers
- Ambient lighting using arduino


---
- VonMagnum - 2011-12-24 09:16

I'm currently using an old upgraded PowerMac (to 1.8GHz/1.5 GB/twin 1.5TB Barracuda 7200 RPM Sata drives with an external 3TB USB3 drive) as a server for both iTunes/AppleTV and XBMC (AppleTVs are hacked to run XBMC) across 4 rooms of audio/video (den, exercise room, living room and home theater room) plus an extra room of audio only (bedroom) all which can be controlled via iPod Touch. I currently have over 6000 songs, over 600 movies (several dozen are in 720P HD) and over 3 dozen tv show series with something like 1200 tv show episodes plus 5000+ photos scanned and/or digital nature that can be viewed/listened to on the setup.

Several of the rooms can also run their own independent media, but they rarely get used at this point since picking media off a menu is way more fun. I'm using a dual radio Netgear 802.11N Wi-Fi setup to broadcast two independent channels so multiple rooms can run at the same time with no issues.

Under iTunes/Apple software, all rooms can sync together for whole house audio (nice for parties or Christmas music, etc.) or run independently with either Apple or XBMC interfaces.




Home Theater Room :







-93" Da-Lite Screen (sits in front of black-out drapes which are in front of a window). The screen drops down from the ceiling between two book cases to connect them together. It can retract and the drapes opened to use the window, if desired for stereo operation or just using the room during the day for other things.

-Panasonic PT-AX100U 720P projector (1080p models were over $5k at the time and this was one of the highest rated 720p models available. I'm still on the original bulb with over 4000 hours, far exceeding the rated bulb time and still bright oddly enough on Eco mode).

-PSB speakers (forget model number, but rated +/- 1dB response from 80Hz to 23kHz) all the way around except for the subwoofer in a 6.1 configuration using identical speakers across the front and back and side surrounds are bipolar design using identical drivers to front (BTW, center channel speakers create undesirable lobing effects off to the side and should NEVER be used unless physically given no other choice. Many photos I see use them where they are NOT necessary. If you have space under your screen, you can use a regular matching speaker!). You can only see one of the surround speakers in the photo (on right wall by viewing couch). Rear (6th channel) surround speaker is identical to the three in the front under the screen and sits in the back of the room.

-Definitive Tech PF-1500 15" / 250 watt subwoofer (sitting behind the coffee table on the left in the photo and pointed right at it, which oddly enough gives flat bass across the room, unlike all other positions). Handles 20Hz-80Hz.

-Yamaha AV/Receiver running 120 watts per channel to the 6 main speakers and handling Dolby Digital/DTS, etc.

-AppleTV running own interface + XBMC

-Other gear not relevant (laserdisc, dvd, etc. all of which have been converted/encoded to MP4 and so are no longer needed) along with a Motorola cable box.

-Room lights are remote controlled and side and rear exits to room have sliding blackout drapes as well so the room can be pitch dark even during the daytime. The viewing couch has dual recline, dual massage and a folding table/cup holder in the middle spot. The recliner has dual massage and recline plus a cup holder, phone and storage box under the arms. The antique fireplace (behind the couch and alongside the lazy boy recliner) is gas powered, BTW.



Living/Music Room:





-Panasonic 47" Plasma HDTV mounted above my Roland digital piano workstation (I also write music using Logic Pro)

-Carver AL-III ribbon speakers (48" ribbons covering 200Hz-20kHz) with built in dual 10" subs (26Hz-200Hz) originally priced at $2k/pair modified to run a custom active crossover network and powered by Sliding Class A Yamaha 180 watt (into 4 ohms) amp for the ribbons and a Carver THX TFM-35x 350 watt (into 4ohm) amp for the 10" woofers. A Carver pre-amp is used with Sonic Holography processing built-in for binaural/surround effects at the center listening position without surround speakers.

-AppleTV, Motorola cable, Pioneer CD player



Exercise Room (not pictured):



-Denon Receiver with 4-channel Def Tech speaker setup
-Off-brand 22" LED HDTV in front of the tread mill
-AppleTV



Den (not pictured):



-Server computer and additional gaming computer and notebook setups all of which have XBMC on them

-Screens ranging from 24" to 27" (5 total) not counting the Macbook Pro's built-in 15" screen.

-Two Klipsch "Pro Media" 2.1 channel speaker setup (best sounding "computer speakers" ever made, IMO and also great for small rooms).



Bedroom (not pictured and audio only):



-Airport Express receiver
-Klipsch ProMedia 2.1 channel speakers on either side of bed and sub next to it


---
- nschmdt - 2011-12-27 04:31

Here is my newly completed setup in my new apartment. Haven't worked too much on making it look nice but I've got a a lot of content in a little space there.

XBMC running the latest EDEN release

52" Vizio
Xbox 360
Sonos Play 5
Sonos ZonePlayer90
Windows 7 with 1TB HDD
400+ movies and counting

Onkyo TX-NR509 reciever
Samsung Galaxy S II with XBMC remote, Onkyo Remote and Sonos Remote
The only thing I cant control from my phone is the on/off for the TV


---
- mjmills - 2011-12-29 23:57

Having played a lot with different pieces of kit here is the set up I have gone for (more rooms to follow:


Living Room




Screen: Samsung UE40D8000
NAS: QNAP with 3TB
Gaming: PS3
Media PC: Acer Revo RL100 running XBMC Eden beta 1 (excellent PC)
Speakers: Bang and Olufsen BeoLab 8000
Remote: Apple iPad 2 running XBMC Constellation (also have a sony tablet s i am testing)

Plus an awful lot of 5ghz network kit around the place to keep things running smoothly.


---
My setup - n4sa - 2011-12-31 10:29

Hey all, this is my current setup. Will post other rooms as I finish them


- Denon AVR-1909
- NHT ST4's, SC1 and SW10. (In the process of installing in-ceiling rears)
- Sony Bravia KDL55EX500 55" LCD
- PC running Win7 with AMD6000 3GHz, 5gb RAM, Nvidia GT240 1GB, 2.5TB of HDD space (Looking to increase by at least 6TB once HDD prices come down)


---
- TonyNoone - 2011-12-31 19:54

Now that is a lot of piano black. Looks good. Very clean rig.


---