---
- Sidekick - 2012-02-11 18:28


deanmv Wrote:Ok stop now... haha would love to see the picture!

I really like to see it too. !!!


---
- Ballistic - 2012-02-19 18:24

My lil Video on Demand setup.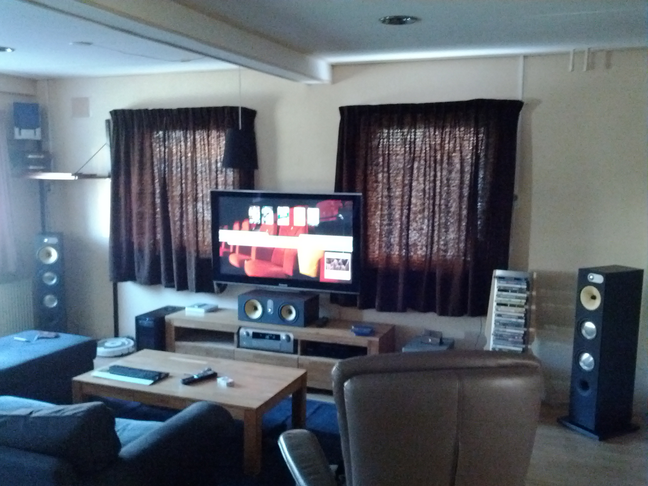 And a walkthrough video
http://www.youtube.com/watch?v=FRsj-8WS9AI

What you see;
Panasonic px-p50v10e
Denon AVR-3808 Receiver
B&W 683 front speakers
B&W HTM61 center speaker
HTPC Power:
Intel Quadcore Q6600
4GB DDR3 RAM
Asus GTX460 videocard


Storage is stored off-site in a datacenter.
Content is all 720p or higher and is streamed over the internet. This (private) system is accessed by more viewers.
This is a
X-Case 4U 16x Hotswap SATA
Intel Core i3 CPU
16GB DDR3 RAM
2x Highpoint Mini-SAS controllers
16x 3TB RAID5. 45TB usable storage

This system also runs Sickbard, Couchpotato, Headphones, etc to automatically feed the content.

Not bad of a setup if i say so myself
---
room dimensions? - wbread99 - 2012-02-26 21:27


r1lee Wrote:Well this is almost all the XBMC machine's currently in my house. The only one that's not on here yet is my daughter's, ATV2.

Family Room
60" Sharp Quattron
Harmony 1100
Zotac E350 AD02 w/8GB Ram
- Mtron 32GB SLC SSD
- HP USB IR at bottom of screen
Cisco HD PVR



Kids Play Area
Yes I know you see the plugs, but initially a wall mount TV was supposed to go up. But my parents didn't want my JVC 70" HD-70FH97. So I gave them my 61" NEC Plasma and took this back.

JVC LCOS 70" HD-70FH97
Focus Audio FC70 Speakers
Focus Audio FCC Center Channel
2 * Emotiva X-ref12 stacked
Aperion Zona Wireless speakers for rears
Onkyo TX-NR709
PS3
Wii
Cisco HD PVR
Silverstone GD06 Case
-Asrock A75M-HVS w/8GB Ram
-Intel 160GB 320Series SSD
-Mtron MLC 32GB SSD, used for Temporary Windows and Internet Folders






Finally The HT ROOM
The Main system is located here, it has XBMC on it and feeds the rest of the house. Its the top machine on the Rack. All running Cat6a
Supermicro Case w/ 8 Hot Drive bays.
-Windows Home Server 2011
-Asus P8Z68-V/GEN3
-i3-2100T processor
-HIS 5750 Fanless 1GB
-2*128GB Mtron MLC SSD in Raid1
-Rocketraid 2720SGL
-4*2TB Drives in Raid 5 (3*2TB additiona for expanded storage or to replace).
Marantz AV7005
Oppo BDP-95
Belkin AVU1500
3 * Emotiva XPA-1
2 * Emotiva UPA-1
1 * Emotiva UPA-2
Focus Audio Prestige FP 80 Front L/R
Focua Audio Prestige FPC SE Center
Focus Audio Signatures FS78 Surround
Focus Audio Classic FC50 Rears
SVS PB13-Ultra
Panasonic PT-AE7000 Projector
148" Dalite HP Fixed Screen. 2.35:1







R1lee, what are the dimensions of your main HT room? I have a basement room that's 13' by 42'. Have a meager setup compared to yours:

http://www.youtube.com/watch?v=aoJXdMNMBdg

would love to use some of your ideas.

Great setup!


---
- NotShorty - 2012-02-27 21:52


wbread99 Wrote:would love to use some of your ideas.

Perhaps this belongs in the original post or something, but it's definitely worth checking out the Home Entertainment & Theater Builder sub-forum over at AVS Forum. Lots of info about some really amazing DIY home theaters...


---
- scarrz - 2012-03-03 15:47

Pm sent.



r1lee Wrote:Many ways to do it. Here is the cheapest, then my way lol.

Look for posters on moviepostersdb.com. At least min of 150dpi.
Print at SpoonFlower.
Look for 1" stretch bars online, I think they range at $6+.
Mount the pictures yourself on the stretch bars.
then your acoustic fiber board.

Here was what I did.

Bought movie posters from movieposters.com. $16+
took them to local scanner guy who can scan large image $30 a piece
Print at Spoonflower
I took them to local framing guy $55 for small up to $95 for the large.
Then the acoustic 5lb 1" fiber board. 12 * 2x4 = $100

Spoonflower.com is where I went to get the images printed.

Their first material, I think it's called cotton quilt. $18 yard is the best for allowing sound waves to pass through. This was tested to be as good as anything out there, but still offered enough material to give a decent image.

The small ones took 1yard each, whereas the larger ones took 2 yards, those on the side walls.

Maximum is 42" for width, No max length.










---
Not the most expensive, but way cool for summer - Harro - 2012-03-04 04:58

Sorry about poor quality pics, taken with Iphone.
I just got this all set up and thought I would post some pics. My friend is about 6'2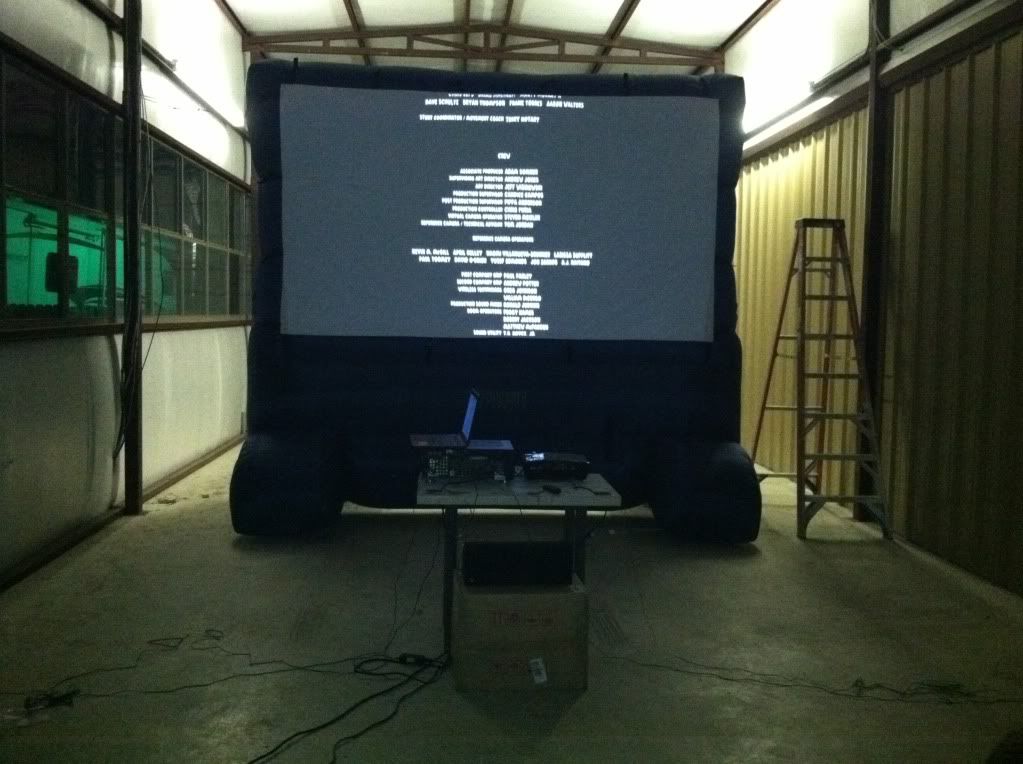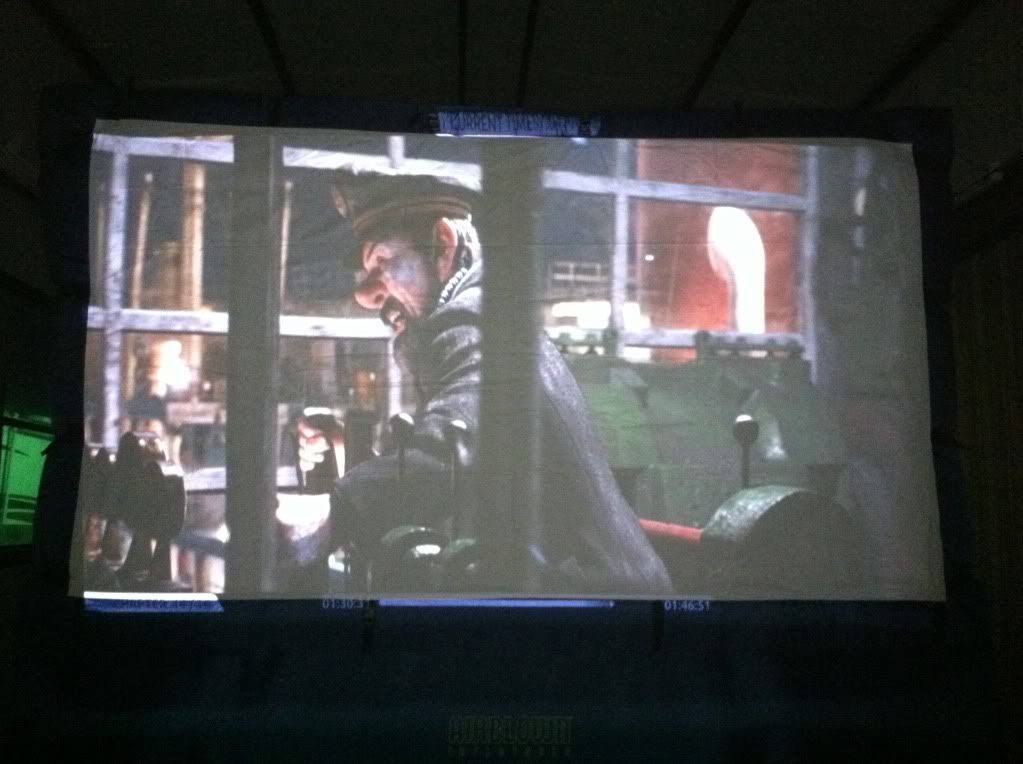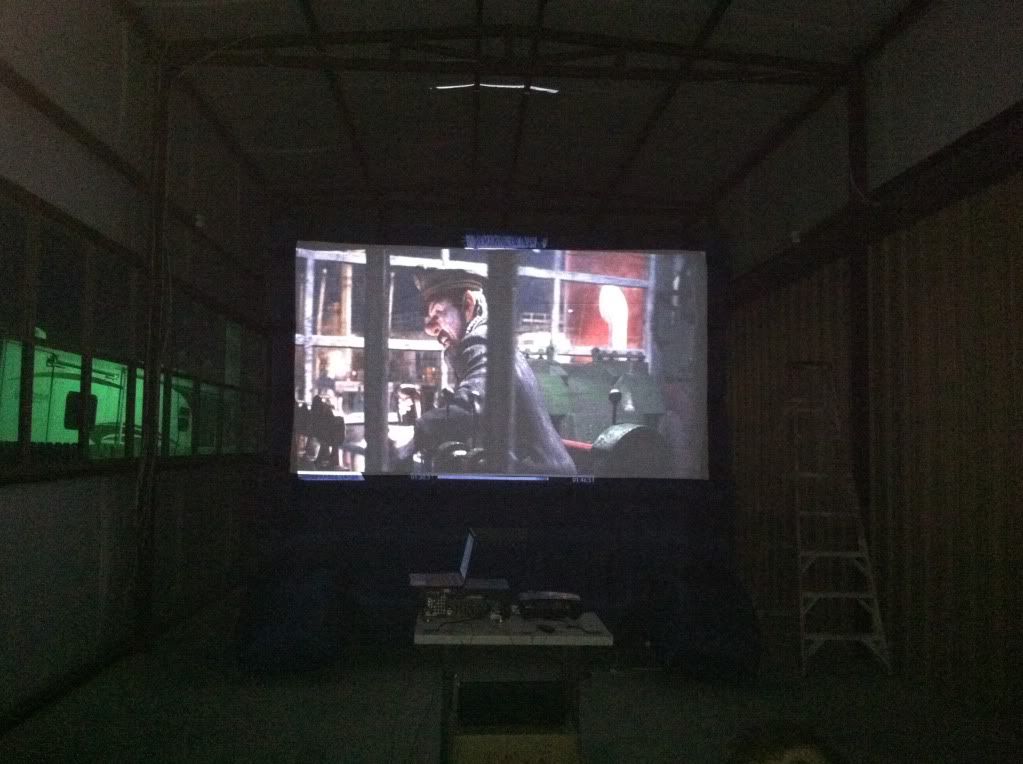 ---
- r1lee - 2012-03-05 01:04


wbread99 Wrote:R1lee, what are the dimensions of your main HT room? I have a basement room that's 13' by 42'. Have a meager setup compared to yours:

http://www.youtube.com/watch?v=aoJXdMNMBdg

would love to use some of your ideas.

Great setup!

To the screen about 28ft. To the sides where the rack and DVD shelf is around 25". Width = 20ft and Height is 8.5".

Your setup is quite fantastic, we're all limited by the space we have. In my case, i devoted the biggest space for the theater
---
- Fragarach - 2012-03-05 08:37


mikeplow1961 Wrote:









What skin is this?


---
- BrooksyX - 2012-03-05 18:39


Fragarach Wrote:What skin is this?

Looks like "Rapier" to me with a lot of the settings turned off.

Here is a picture of my humble college setup: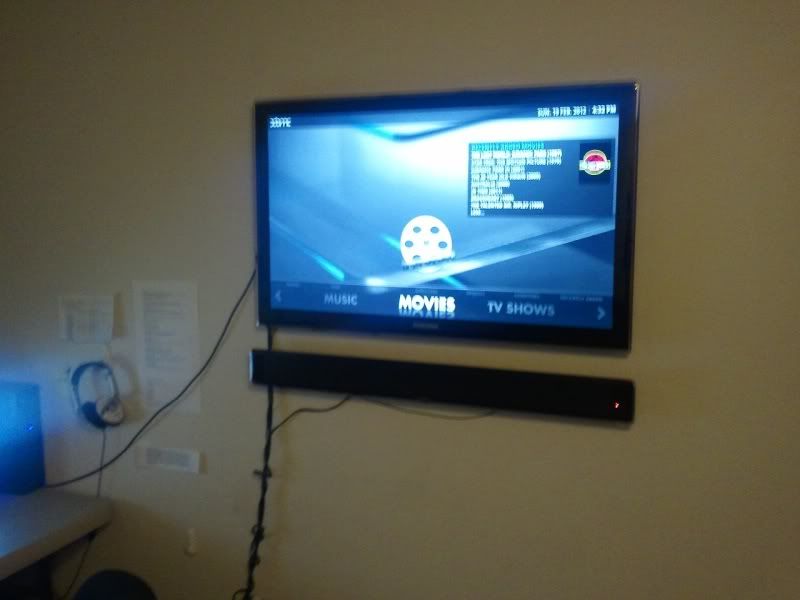 Specs:
40" Samsung LED
Samsung 2.0 Soundbar

PC Specs(can kind of see it on the left side):
Cheap rosewill slim ATX Case
Seasonic slim ATX PSU
1x 30gb OCZ Vertex I (OS drive)
2x 1tb WD Green HDD
1x 2tb WD Green HDD
1x 750gb WD Scorpio HDD (laptop drive)
Asus Radeon 5450 512mb Video
Biostar AM2+ motherboard
AMD AM3 Dualcore cpu (underclocked and undervolted)
Generic wireless keyboard and mouse

Overall happy with my setup, I would try to clean all the wires up but I am moving in a few months and figure I will try to just set it up right in the new place (and I don't want to fix any holes in the apartment wall.)


---
- defluo - 2012-03-05 18:44


Fragarach Wrote:What skin is this?

Aeon Nox


---