---
- Twistedretard - 2010-05-22 03:11


DR. Stranger Wrote:I really don't think the design matters, it's the simplicity a skin could bring to xbmc that would appeal to kids and help users trust their kids with xbmc. Kiosk modes and lock-downs have already been implemented in some skins.. but a minimal skin with simple direct action and very little text hasn't been done.
As for the mock up, I can appreciate the challenge, but what you have put together is not very appealing... it looks like what a corporate group of ignorant adults and ill sighted designers would put together with the compelling challenge you've come up with...

Yeah i understand now that this is to cheesy

But i dont want to lose the bright colors that all the other skins doesnt have.

Well ok going to aim for big icons and as simple as possible.


---
- gabbott - 2010-05-22 03:18


gabbott Wrote:Completely agree, focus on simple navigation with minimal options/text.

To expand on this, my kids can navigate the PM3 skin fine but one area that causes a problem sometimes is the options to the right, they'll go into those and change the sort order and things like that and then it makes it harder finding what they are looking for (in my case there are 400+ items to go through). So that is where I am coming from in simplifying things. Make thumbnails standard and sorting options and things like that hidden/tucked away or just have a standard sorting alphabetically and leave it at that.


---
- mcborzu - 2010-05-22 03:21

I dont have kids either but like the concept and colors...

Navigation-wise, I think something along the lines of Alaska (Home 2) with those big icons would be good..


---
- Twistedretard - 2010-05-22 03:28

Thats exactly what i was thinking when i started this project.
Remove all the things that would confuse a child.
The only thing that i feel is needed is homescreen, moviescreen, music and tvshows.
And eliminate all the sorting options and all other settings.
Three icons on the homescreen and only posterview in all the subtrees?

And anything on the OSD? play forward stop? big icons?


---
- MarkTaunton - 2010-05-22 11:07

Fantastic idea and lovely colour scheme so far.

So far people have mentioned kids around 4 years of age but the skin needs to be something that an 8 year old, or 12 year old can feel comfortable about as well.

Ok so maybe the 12 year old would be more able to use other skins, but there are some immature 12 year olds that are into the jonas brothers, and high school musical (hang the fookers)

That want probaly a cooler skin than which is aimed at a four year old.

So balance of age ranges is vital.

Then you have the next problem, which is colour schemes, pink for girls, blue for boys, so colour schemes e.g having various pages might be an option.

Also if you would be using characters, such as Harry Potter for movies page for example, the kid might grow out of Harry Potter and get into Spiderman for example, so having something that the parent can change, or update a graphic would be excellent.

I have a directory for family movies, god knows why as I have no kids, and have a seperate skin for family movies, but obviously having less options such as settings etc, where the kid can get into things and change stuff around is a good idea.


---
- NEUR0M4NCER - 2010-05-24 02:32

I loved the idea of a kid-centric skin, and your concept set my mind going...

IMHO, utter simplicity is the key, as few different screens as possible - with that in mind, I was wondering if someone could tell me if this is possible: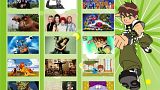 I know all the placing & size is wrong, but the concept is that this is the home screen, left/right moves you between Movies/Music/TV and up/down scrolls. Selecting TV/Music can either bring up an overlay with Tracks/Episodes, or open selection to the right of the screen - the idea is to keep everything on one page. I intended to add a focused selection around the Ben 10 thumb, but it's really late...

You get the idea - what do you think? Possible?

(and apologies for hijacking... :o)


---
- Robgue - 2010-05-24 06:43

Great idea. I got some beta testers here for you too
.

I'm just gonna echo what everyone here says.

Bright gender neutral colors please.

Lock down the settings. That's the biggest issue I've had with my kids.

I'd also target age 4-12.

Text not needed.

I'm not so sure about using cartoon characters. My son would be happy with a Ben 10 character but my daughter's Snow White not so much. I wouldn't want to have to change their settings every time one of them uses it. Nor do I want them to have individual profiles.

I like the big clock from your 1st mock up. That way they know it's bed time.


---
- szsori - 2010-05-24 07:18

This is an excellent idea. I'd recommend:

1. Whatever icon is used on the main menu, make sure you're displaying it prominently in that section as well. For example, the tv icon should be shown with the actual tv listings. This will allow kids to match the media they want to the section more naturally. My son is 2 and he'd be able to understand that.

2. I would try using colored icons and a muted background color instead of the method you've used in v2. That will make the buttons themselves stand out more. Be consistent with them: if one has a border, they all should; make the icons themselves the same size; etc. You may even want to take #1 a bit further and color code the icons and sections.

3. There are some really good icon sets out there you could use. http://www.istockphoto.com/stock-illustration-3028249-cute-icon-series.php wouldn't work unless you color coded the sections, but you get the idea of what I'm talking about. For really young kids you could even add a name for each one at the bottom of the icon and it'd help them remember better ("Telly goes to Duck Tales and Blues Clues, Moo goes to Monsters Inc and Boondock Saints"). If you need to purchase some stock art icons, PM me and I'll buy them for you.

4. Look at the ClearLogo thread. Those will be supported by my site in the next few months. Kids will associate a logo easier than actually reading it. Posters or fan art will still work best, though.

5. Brainstorming here, but my kid will accidentally leave his movie sometimes and I have to intervene before the complaining starts. We have an AppleTV remote that only has a couple buttons. We also have a more advanced remote. Would it be possible to set a lock mode to a button that's not used much that would change every button on the AppleTV remote to pause/play? So I would press 9 (or whatever) on my universal remote and it'd lock all of the controls to pause/play until 9 is pressed again. Is that more of an XBMC feature?

6. Even though you want to keep the colors bold and design simple, you might want to add a drop shadow to the menu items so they pop out more. If you're subtle it'll make it look really nice while still working great for kids.

7. Play around with some different view options, but use only one in the skin. A large poster view would probably work best. Don't worry about the overview, rating, and other meta information. Kids already know about their movies from the previous 57 times they've seen them.

8. Give parents the ability to turn off home menu options. My kid will only be using it for movies and tv shows, but other parents might want games, music, music videos, etc. Having options that lead to no content will only confuse/frustrate kids.

9. Integrate an RSS feed, but allow parents to toggle it. For kids that can't read, a feed that just lists the alphabet, numbers, or even short words would be awesome. For kids that can read, a feed with short little facts, rhyming words, etc would be cool too. I'm sure the community could put together a list.

10. Robgue's clock comment is spot on too. My kid can't read clocks yet, but seeing it up there will cause him to be curious about it and want to start learning it.

I'm really stoked by this idea and will definitely use it if you put it together. Not only that, if it's done well I'll make sure it gets mention on my homepage so people focus on getting kids shows whatever artwork they need.


---
- Rocky5 - 2010-05-24 20:21

the best thing to do would be simplicity when i say that i mean coding only 7 windows.

Home
Movies Library (videos)
TV Shows
Music
Pictures
Settings (hidden)
Shutdown Menu (Hidden)

this way nothing can go wrong you setup the profile with another skin then set it to the kids skin that way they cant change anything.

i may do this at some point for my two daughters 2 and 3 coming up 4
.


---
- rflores2323 - 2010-05-25 19:53

any update on this skin as I am very excited about it!


---