---
- starcitysecrets - 2010-12-07 03:06


ZombieRobot Wrote:remember you want to break down each layer of your images so that it will work for skinning.

each and every single image

good job dude good luck with the xml

yeah I realised this early on so I figured out how to do that and have already started saving these individually but these will probably become obsolete over time as the skin evolves, but thanks for the heads up, I know this is going to be an uphill struggle.


---
- SynstrShn - 2010-12-07 04:26

looks really good! Really liking how its coming along! Nice work


---
- Jaypeg - 2010-12-07 12:44


starcitysecrets Wrote:

ta daa

Just what I hoped for! Really nice job!

I also like the home screen
---
- starcitysecrets - 2010-12-08 00:43

I've started up a dedicated blog to post future concept designs to. I'll still update this thread fairly regularly but if anybody is interested in a more in depth progress with this project they can follow the blog at:

http://projectnebula.tumblr.com/

or perhaps if you have an RSS reader

http://projectnebula.tumblr.com/rss


---
- starcitysecrets - 2010-12-08 06:11

I should be sleeping ready for university tomorrow but my stupid flatmate has been playing music and keeping me up so I thought I'd be a little constructive if I'm gonna have to stay awake.

Three More Screens for you. I'm very much in the giving mood, must be the Christmas spirit in me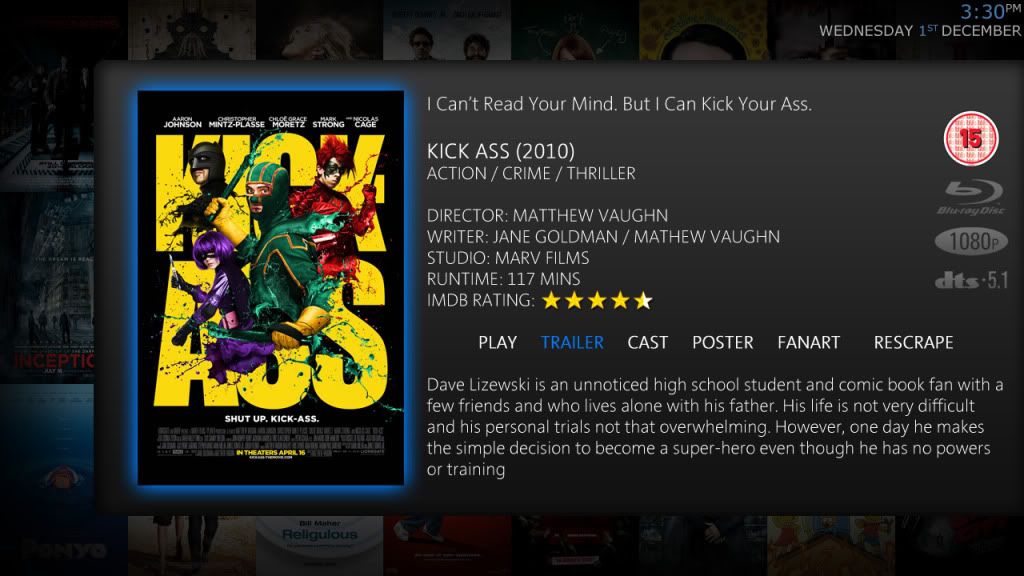 Movie Info Screen




Cast Screen (can't really do much with this)




Pop Out Trailer

My general feeling right now is to make everything so that you don't really have to leave the movie view unnecessarily. This way, everything is easily available and new or inexperienced users can easily find their way and not become 'lost' within the various pages of the info screen.

Tell me what you think, I've quite warmed to the grey gradient that you guys suggested hence why I used them for this and the home screen.


---
- MindTooth - 2010-12-09 20:33

Looks good
Nice to see another skin make the scene.


---
- starcitysecrets - 2010-12-14 03:55

Been a while since I made an update but do not fear as I have not abandoned this project. Messed around with confluence a little bit the other day and managed to get a little modification to make it look like this skin but it is more likely that I will have to find a coder interested in making this a reality. Although I would love to learn along the way so that I can make adjustments after it is complete.

Two new screens for you.

The first is recently added on the homepage which I don't personally use but I know is very popular.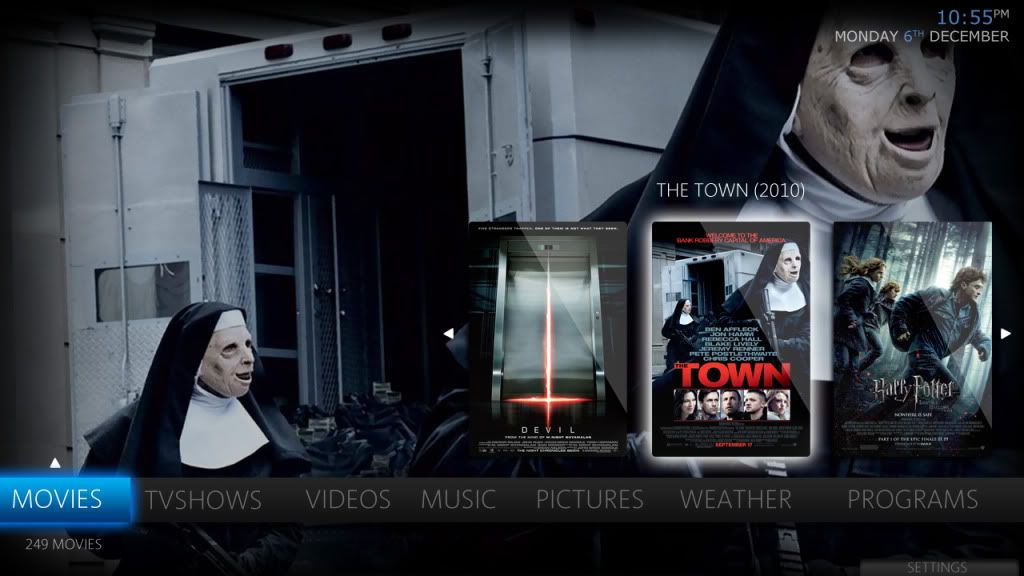 The second is a posters view idea that I had, again based on Phyek's unfinished design but I'm bringing alot of my own ideas into this.




Do tell me what you think
---
- rausch101 - 2010-12-14 04:28

I really like that home screen. Would you be more inclined to have it be a slider or swap out categories if people wanted some custom home menu items?


---
- starcitysecrets - 2010-12-14 05:14

im not really hot on slider menu's as I believe its much better to navigate a menu thats all on screen but I wouldnt mind the ability to swap menu items.

I'm not sure how difficult it would be to implement some custom home menu items as it's doubtful that I will be coding it. My main worry is that adding multiple custom items and then only taking out one would make it very cluttered for instance and im not sure you'd be able to have xbmc limit the amount of additional menu's you add (for instance if I took one out and then used up the 3 custom slots, it'd either all overlap each other or be all squeezed together if you know what i mean)

I'm thinking how easy Aeon made it by choosing what items you wanted in the menu with also the ability in some mods to add certain shortcuts to plugins like 'Trailers'. Problem is that they benefited from a scrolling menu.

What kind of custom menu items did you have in mind?

I have an idea for having a settings button to able to swap the 'Video' menu shortcut to 'Video Apps' as I know thats all I use the video menu for as the file system is being generally phased out. And maybe have the programs shortcut change to 'Games' if thats all people use programs for.

My only other suggestion is to have the ability to swap 'programs' for a custom menu button, maybe name it 'My Menu' and within that have a submenu that you can add all your playlists and add-on shortcuts to, kind of like a 'Favourites' submenu.


---
- Jaypeg - 2010-12-14 11:28

Nice progress. Really nice home screen, though I'm not too fond about the placement of the settings menu item. Maybe that should only be accessible through 's'-press if you want the menu to be scrollable.

For the poster view I'd like to have the option to disable fanart. I don't really like fanart when it's cropped that much - maybe make the posters smaller?


---