---
- lipo - 2010-09-07 16:26


wyrm Wrote:lipo,
sounds like a fair criticism, but what order do you think makes more sense, the first or the second?
Wyrm
i prefer the first one
ill keep you posted if i see any bug or maybe suggestion


---
- wyrm - 2010-09-08 04:12


lipo Wrote:what this blank space for?
i guees libary mode, right

lipo,
found the problem here, basically it's a button for online gaming (XLinkKai) that is no longer supported. To fix go into MyPrograms.xml and remove the last button control block (starts with '<control type="button" id="6">') at about line 133 of the file.
There has been some talk over at http://www.xbmc4xbox.org/forum/ about adding this back into xbmc4xbox, but for the moment it is not part of the code. I will remove this for v1.0 of the skin.

Wyrm (xTV SAF)


---
- lipo - 2010-09-08 04:44

thanks for the quick fix
will start looking for bug again after idul fitri
thanks Wyrm


---
- wyrm - 2010-09-08 05:53


lipo Wrote:thanks for the quick fix
will start looking for bug again after idul fitri
thanks Wyrm

Selamat Idul Fitri lipo. Enjoy the holiday and I will hear from you soon.

Wyrm (xTV SAF)


---
- lipo - 2010-09-08 06:30

terima kasih wyrm
it gonna be very fun week, i can play halo 2 with my nephews
---
- lipo - 2010-09-10 05:31

it may not a bug, but more of a suggestion
when i set volume to mute a new window appear


i think it would be more efficient if muted word & icon appear on volume bar window rather than show up new window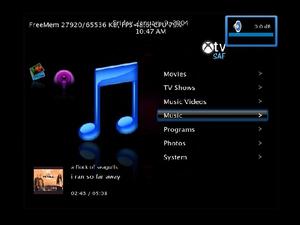 http://pastebin.com/E5ZTge5a
---
- wyrm - 2010-09-10 07:44


lipo Wrote:it may not a bug, but more of a suggestion
when i set volume to mute a new window appear

i think it would be more efficient if muted word & icon appear on volume bar window rather than show up new window

http://pastebin.com/E5ZTge5a
lipo,
No definitely not a bug. The Mute window that appears has always meant to appear (it's set by xbmc.), just due to a bug in the skin it was not being displayed. Just the same, there is no reason why I can't line up the two windows so that it appears it's the same window with changed content.

On a side note, have just fixed (as of about 10 minutes ago) the Repeat button losing focus bug. Now I can move onto the next bug in your long list of bugs.

Wyrm (xTV SAF)

Have just fixed your 'issue' lipo (and a bug in the volume display). Volume now displays as a series of bars of increasing height (as it was meant to originally). It is still handled by two different .xml files (DialogMuteBug and DialogVolumeBar), but they are now in the same position on screen, so look like one dialogue.


---
- lipo - 2010-09-10 10:31

good to hear that
speaking of repeat button, it is possible to add to video osd or it intended only appear on playlist?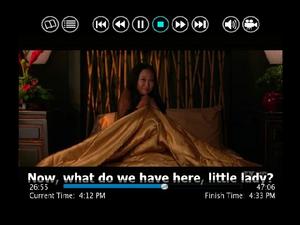 next
when i play video, player control osd still using milkdrop setting & preset button
maybe you can chane it to audio &subtitle setting also video setting

http://pastebin.com/jrV9icq7
---
- wyrm - 2010-09-10 16:31


lipo Wrote:good to hear that
speaking of repeat button, it is possible to add to video osd or it intended only appear on playlist?

next
when i play video, player control osd still using milkdrop setting & preset button
maybe you can chane it to audio &subtitle setting also video setting

http://pastebin.com/jrV9icq7
lipo,
really that is a work in progress, I have been working on this over the last couple of days. At the moment it is really only of use for music (guess the original skin coders did not think anyone would use it for anything other than music). I guess with using the video as a background or as a thumbnail it would be useful to provide video controls, but it will involve adding a number of buttons to handle that. As to the Repeat and Random buttons, I'm not sure if I can provide anything that would be useful (or even if I think it was worthwhile). I need to have a bit of a think on this and see what I can come up with.

Wyrm (xTV SAF)


---
- lipo - 2010-09-10 16:58

great to hear it been taken care
i compare to other skin, it doesnt have milkdrop setting & preset button on player control


as picture in my previous post show ,milkdrop setting & preset dialog also block player control osd
so for last option, maybe you can delete milkdrop setting & preset button altogether


---